Hair Regrowth System for Women
Regrow hair in as little as 3 months. Formulated with FDA-approved women's hair regrowth ingredient
What it does

Rooted in science, backed by clinical research. Our breakthrough formula works to: 

Stimulate hair follicles 
Regrow hair 
Reduce further hair loss 
Treat thinning hair
Helps strengthen and thicken hair
Supports hair strength and defends against breakage
How it works

Our regrowth hair treatment works by increasing the blood flow and nutrient supply to the hair follicles, so in turn reactivates and revitalises shrunken hair follicles and prolonging hair growth. In Patterned Hair Loss (Androgenetic Alopecia), hair follicles become dormant and shrink over time, reducing the active growth phase of the hair follicles and resulting in thinner, finer hair.

Our innovative thickening and moisturising Shampoo and Conditioner are infused with keratin protein to deeply nourish hair. Thickening actives, vitamins and amino acids penetrate deep into the hair shaft to improve strength, overall health and provides a glossy finish.
Free from Silicone oil, Sulfates, Parabens, Mineral oil, Ethylene oxide and Phospate.
ingredients

Keratin Scalp Therapy Conditioner

Purified Water (AQUA), Cetyl Alcohol (derived from coconut oil - CETYL ALCOHOL), Stearyl Alcohol (also derived from coconut oil - STEARYL ALCOHOL), Certified Organic Aloe Vera (ALOE BARBADENSIS LEAF), Vegetable Glycerin (GLYCERIN), Hydrolyzed Keratin, Cetrimonium Chloride (CENTRIMONIUM CHLORIDE), and Potassium Sorbate as a freshness assurer (POTASSIUM SORBATE).

Keratin Thickening Shampoo

Purified Water (Aqua), Sodium Laureth Sulphate (derived from coconut oil), Sodium Coco Sulfate*, Cocamidopropyl Betaine, Laurel Glucoside, Vegetable Glycerin, Aloe Vera (Certified Organic), Keratin, Guar Hydroxypropyltrimonium Chloride, Sea Salt, Potassium Sorbate (freshness assurer)
How long does it take to work:

Typically results are seen after at least 4 months, but in some individuals it may take 1 year of continuous use for the benefits to be apparent, whilst in others improvement may be seen as early as 12 weeks.
Can I get my hair wet after applying the product?

No, to allow our product to absorb fully into the scalp and start working its magic, you should allow the product to remain on the scalp for four hours prior to washing or wetting your hair.
Can I use other hair products after applying the product?

Yes, but make sure KeraFiber Hair growth treatment has dried fully first before applying other products.
Before & after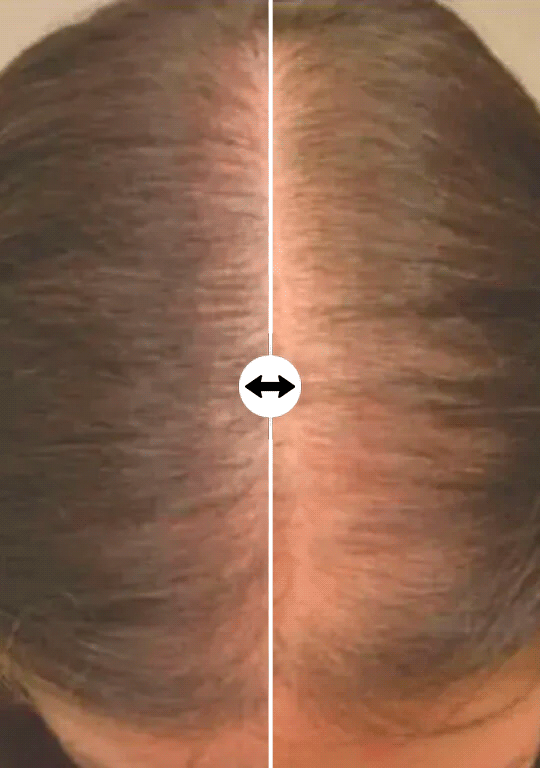 Worked wonders for my post menopausal hair loss
I started shedding hair when I turned 50 across my scalp and I had tried everything. So pleased my GP recommended Kerafiber's Hair Regrowth System
Wendy C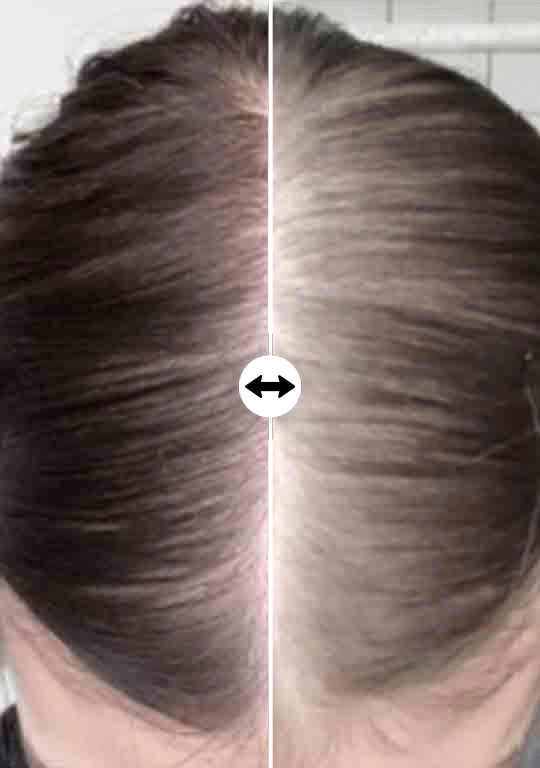 Better results than Regaine and easier to use
I've used Regaine foam before and the foam went everywhere. Really happy I switched to Kerafiber, i'm feeling so happy seeing less hair come out in the shower/on my hair brush!
Sam N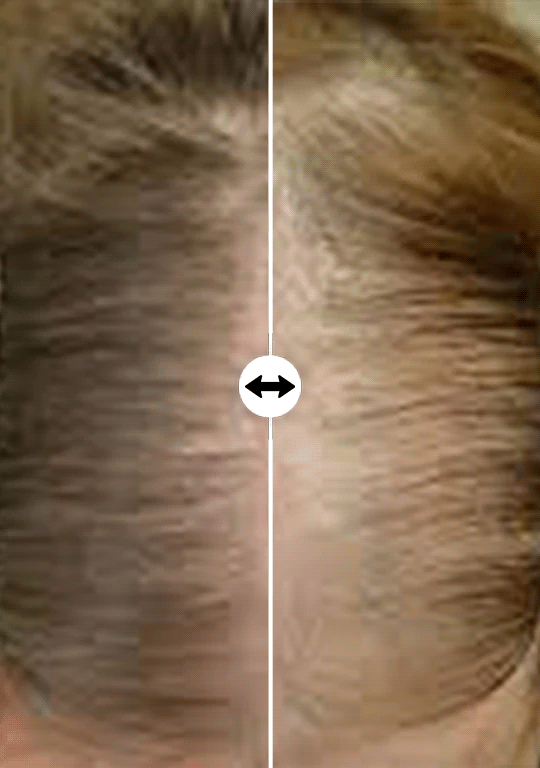 Cannot believe the results - got my confidence back!
It is so quick and easy to use...It dries very quickly and doesn't leave any residue in the hair. Incredible!
Jen C
VIEW MORE RESULTS
What's included?
KeraFiber Hair Growth Treatment formulated with the only FDA-approved hair regrowth ingredient and proven to help hair loss in 8/10 women.
 
Keratin Shampoo deeply cleanses hair & scalp, removing build up, without disrupting the microbiome. 

Keratin Conditioner repairs each individual strand to reduce breakage & shedding.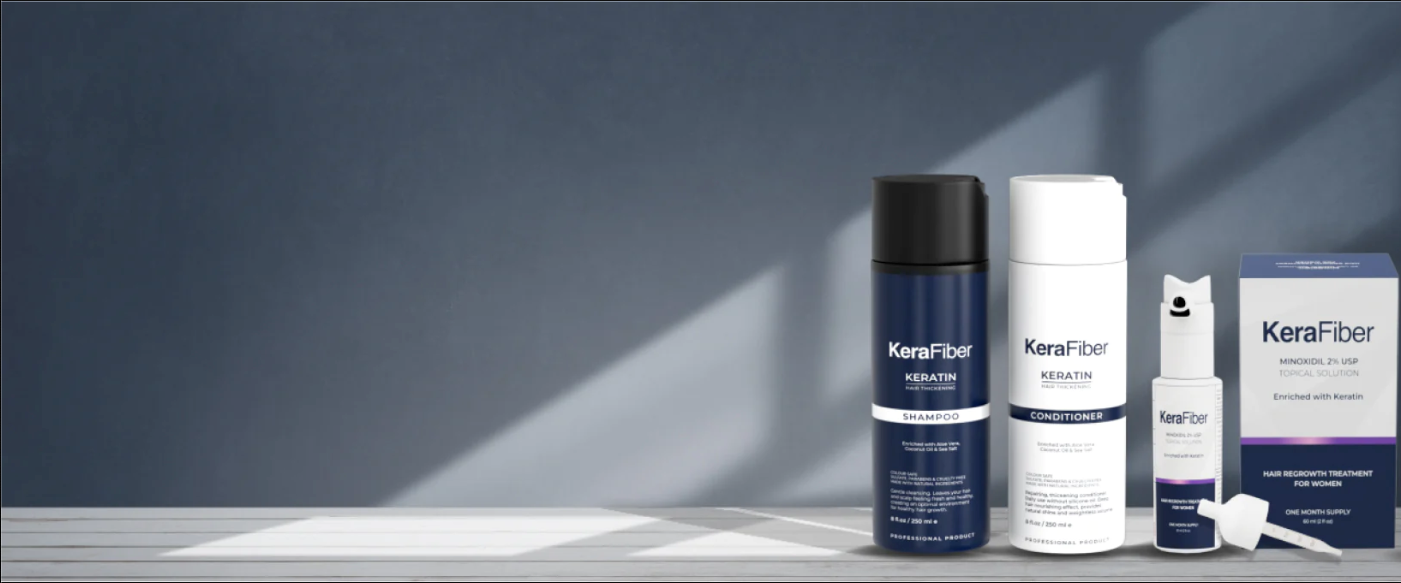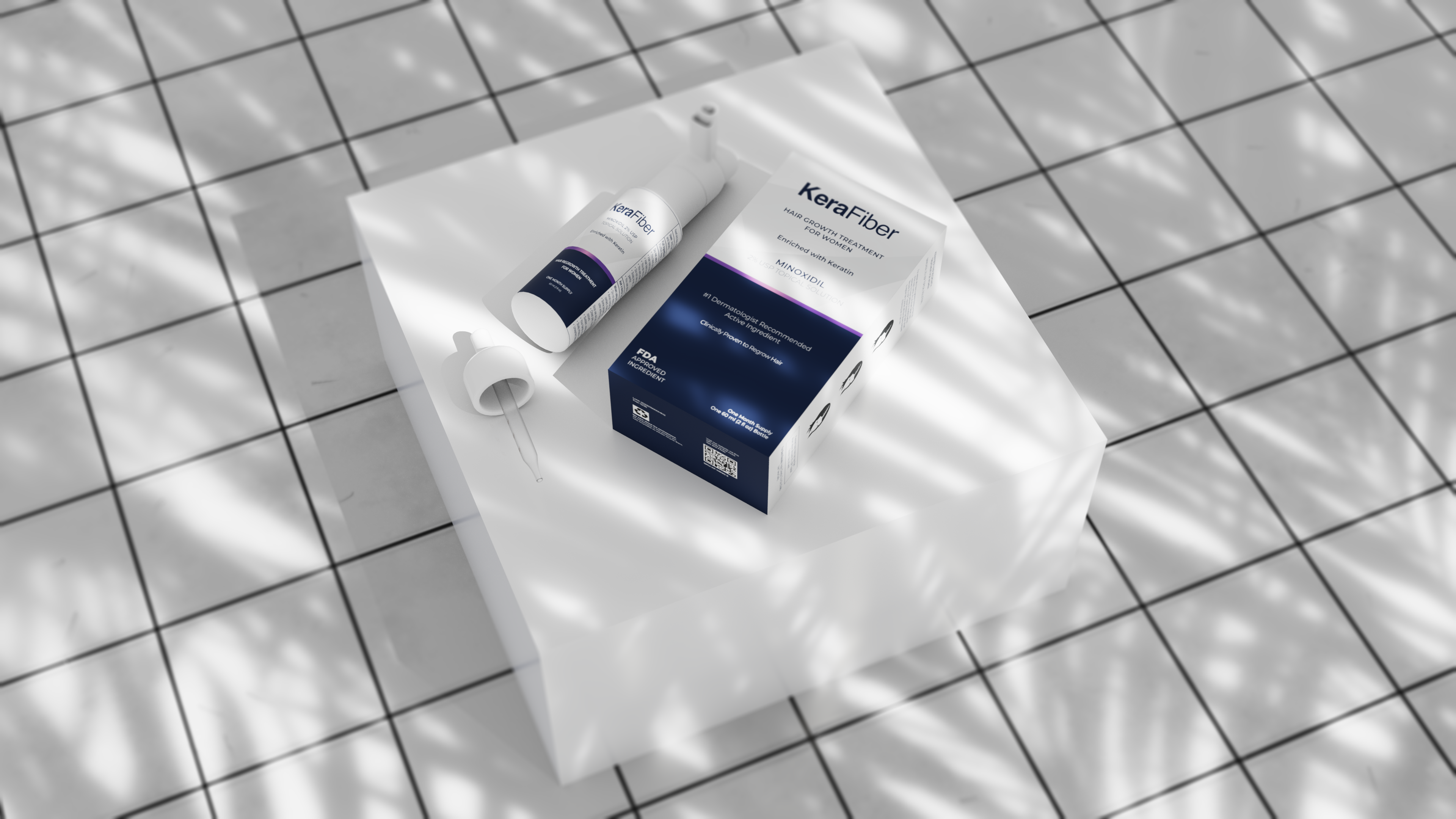 Regrow Thicker Hair in Weeks
Clinically Proven to help regrow hair
Step 1:
Keratin Thickening Shampoo
Application: Apply and gently massage into wet hair and scalp. Lather for one minute, then rinse thoroughly.
---
Step 2:
Keratin Scalp Therapy Conditioner
Application: After cleansing, distribute onto the scalp and throughout the hair. Leave for one to three minute, then rinse.
---
Step 3:
Hair Regrowth Treatment
Application: Distribute gently and evenly over a clean and dry scalp and leave on.
---
Approved by dermatologists and trichologists
INCREDIBLE SET FOR WOMEN WHO ARE EXPERIENCING THINNING HAIR AND WANT TO GET RESULTS.
---
Dr Surbhi Virmani, 

M.D, PGD (Clinical Dermatology)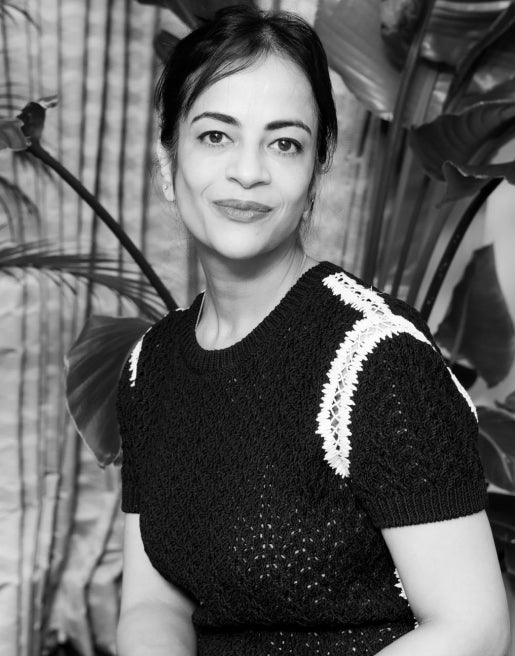 The science behind our Hair Regrowth Treatment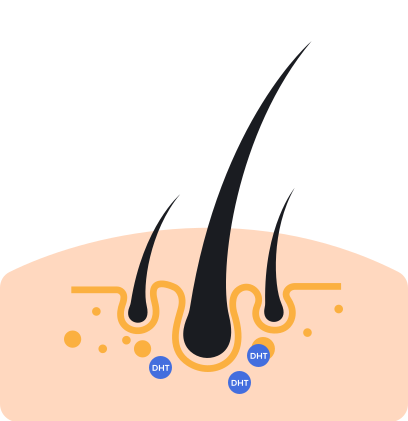 Keep follicles open with our topical spray
Our spray works by blocking an enzyme that converts testosterone into DHT, a hormone that can weaken hair follicles.
reactivate dormant follicles
The active ingredients in this spray increase the time these follicles stay in the active growth phase. That means this treatment can help you get new hair coming back in, even if you thought those follicles were dormant.
Enjoy better hair density in 3-6 months
Results take time. If you're not seeing hair regrowth right away, it's ok, that's normal. Most women see results after 3-6 months of consistent use.
Other products you may love
Hair health
Have used products three times so far and very happy with them ,gives my hair a lovely texture and shine so very happy with them and would purchase again
My Hair feels Amazing!
It makes me my hair feel so soft I honestly didn't expect that! Thick, soft, longer hair! I'll take it!!
Lil bottle of magic portion
KeraFiber Minoxidil 2% USP topical solution has been a game-changer in my hair growth journey. I've been using it for a few months, and I've noticed a significant improvement in my hair thickness and regrowth. It's easy to apply and doesn't leave a greasy residue, which is a huge plus. I'm thrilled with the progress I've seen. Highly recommend it for anyone looking to combat hair loss and boost confidence!
This works!!
I've been using this Minoxidil + Keratin combo for a while now (around 6 weeks), and I'm starting to see a bit of growth in my balding areas! This is huge, and I'm excited to continue growing my hair back. My hair feels pretty normal after using it too, it really is non sticky.
hair
Hi as yet I have only used the Keratin twice after reading all the information about it I am a bit worried about some of the side effects of it I do not have any of the problems it can cause but I do take a small blood pressure tablet 5percent could you please give me any information you might have. Thank you